Cincinnati Super-Bowl Dip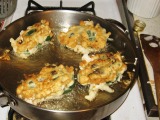 Cincinnati Chili is available in stores or online. The top brands are Skyline, Gold Star and Dixie. Dixie is the superior choice as far as I'm concerned, ("Cincinnati chili for the Southern palate," is their slogan). Use the type with no beans unless you like dip with beans in it. There are also a couple of clone brands (store brands) of Cincinnati chili now available. Also, if you want to make your own, here's a recipe that you'll love: Ospidillo Cafe Cincinnati Chili No. 2. I invented this dip recipe and it's really caught on in my neighborhood. Serve it with torn-off chunks of baguette bread or, with nacho or tortilla chips. You can even use this stuff as a unique hot dog topping for something different! Enjoy!
Directions
Spread the cream cheese on a microwave-safe plate, then top with the chili and shredded cheese.
Microwave on HIGH just until most of the cheese is melted (about 45 seconds).
Sprinkle the top with the minced fresh cilantro and serve with Italian bread chunks or Mexican chips.
Enjoy the ballgame!