Island-Inspired Grilled Ham Sandwich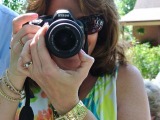 I was in the mood for something different today and this is what I came up with.
Make and share this Island-Inspired Grilled Ham Sandwich recipe from Food.com.
Directions
Butter one slice of bread and place in cold skillet, butter side down.
Spread cream cheese on bread in skillet. Arrange pineapple on cream cheese, using enough to cover. Layer ham slices on top. Top with other slice of bread and butter the outside of that slice.
Fry over medium heat until toasted, flip and continue until both sides are toasted and filling is warmed.