Scalloped Potatoes and Butternut Squash With Leeks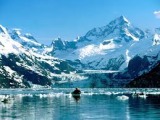 I love, love, love this recipe. It can be a little time consuming to make but you can prepare it in advance and then bake when ready. It is the creamy goodness of comfort food but gourmet enough to serve to guests. This comes from a favorite cookbook of mine, "Gourmet's Parties".
Ingredients
Nutrition
3

cups leeks, washed very well and then thinly sliced (about 6 large, white and pale green parts only)
1⁄2 cup unsalted butter
3 1⁄2 cups whole milk

6

tablespoons all-purpose flour
1 1⁄2 lbs potatoes (about 4 large)

1

lb butternut squash, peeled, seeded, quartered and cut into 1/8 inch slices
1 1⁄2 cups gruyere cheese, coarsley grated (about 4 ounces)
Directions
Preheat oven to 400 degrees.
Generously butter a 3 quart baking dish (at least 2 inches deep).
In a skillet, cook leeks in 3 tablespoons butter over medium low heat, stirring, until very soft.
In a saucepan, bring the milk just to boil (don't scald.just keep warm).
In another heavy saucepan, melt the remaining 5 tablespoons of butter over medium low heat and whisk in flour - cooking and constantly whisking for about 3 minutes.
Add heated milk in a stream, whisking, and bring to a boil.
Simmer this sauce, whisking, for 1 minute - or until thickened - and season with salt and pepper.
Peel potatoes and slice 1/8 inch thick.
Spread about 1/3 sauce in baking dish and cover with 1/3 potato and squash slices, overlapping them slightly.
Cover slices with 1/3 leeks and sprinkle with 1/3 Gruyere.
Make 2 more layers with sauce, potatoes and squash, leeks and Gruyere in the same manner.
Bake, covered with foil, in middle of the oven for about 20 minutes.
Remove foil and bake 30 minutes more, or until top is golden and vegetables are tender. Yum!
*If you prepare this in advance you may need to bake it a little bit longer*.