Smoked Macaroni and Cheese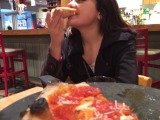 The ultimate comfort food. This recipe comes from the Williams Sonoma Kitchen. I have spent years on a quest to try different mac and cheese dishes. I'd like to find my favorite. So far this is one of the top.
Directions
Preheat oven to 375 degrees.
Butter large rectangular baking dish.
In a saucepan over medium heat, melt 4 TBS butter.
Add flour; cook, stirring frequently, about 3 minutes.
Whisk in milk; cook, stirring frequently, until thickened, about 5 minutes.
Whisk in tomato paste.
Add 1.5 cups of each cheese; stir until melted.
Season with salt, pepper and cayenne.
Tear bread into crumbs.
In small bowl, stir together bread crumbs, 2 TBS melted butter and salt.
In a large bowl, combine pasta and cheese sauce.
Pour into prepared baking dish.
Top with remaining cheeses and buttered bread crumbs.
Bake until cheeses are golden and bubbly, about 40 minutes.
If top becoomes too dark, cover with foil.
Let stand 10 minutes before serving.